International Women's Day: When Good PR Backfires
The tweet that launched a whopper of a PR backlash for Burger King on International Women's Day wasn't really that bad. The initial post from @BurgerKingUK read simply, "Women belong in the kitchen." Clearly, it was meant to get our attention. What followed was a thread announcing a BK-backed scholarship program for female professional chefs in the UK restaurant industry. As it happens, women are badly underrepresented in the category. The company also took a full-page ad in The New York Times that led with the same provocative line. The details of the program appeared below it.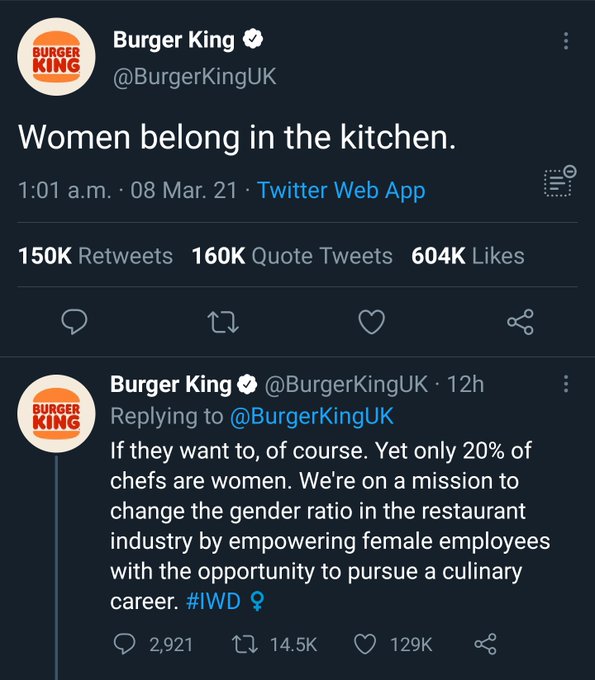 Burger King UK definitely won attention for its scholarship program, but not in the way it had hoped. Its CMO spent nearly the whole day defending the tweet and the accompanying campaign before deleting it and apologizing for the approach. The heat could have scorched my screen.
A meaty program still backfired
Why? Its program was reasonably substantive. The burger giant could have opted for a silly, meaningless gesture by changing its name to Burger Queen for a day. Other brands, from rival McDonald's to MTV, performed similar stunts by turning the "M" in their logo upside down to a "W" for women. BK actually tried to put some steak in its sizzle. Yet it was flamed all over social media and will surely think twice before pulling another such PR stunt.
The initial reaction may simply have been because people didn't read beyond the initial tweet. Twitter can be unforgiving. The mob is quick to criticize and demand a pound of flesh for any mistake. And, using a sexist trope to grab attention struck some as a cheap trick. Yet the harsh response served up to Burger King probably goes beyond the tweet itself.
One factor may be its timing. The salutes to women by Burger King and other brands on International Women's Day come after a very rough year. Women in particular have suffered during the COVID pandemic, squeezed between their roles as caretakers, parents, and earners as the shutdown dragged on.
The pander undercuts the promise
The mini-crisis suffered by Burger King shows how tricky it can be to engage a specific, yet wildly diverse, customer segment. It also says something about the importance of brand authenticity. It's fragile. Too often, companies mark occasions like Black History Month or International Women's Day with empty stunts or weak promises that contradict their actual behavior. The QSR industry in particular is vulnerable due to its low wages and recent lawsuits around sexual harassment of female workers, among other scandals.
Then there's the matter of the brand's true commitment. Though Burger King UK was unfairly singled out (in my view), it's obvious that the money spent on a full-page New York Times ad probably exceeded the funds committed to the scholarship program. It's great to promote your good works, but how it's done highlights what a brand truly values. BK would have done better to announce its program more quietly, be more generous with its commitment, or both.
On International Women's Day, there was plenty of worthy recognition. As a PR person, I love a good news hook, but on Monday there was also an awful lot of shallow brand outreach. For many, it looked like naked pandering. No one likes to feel objectified. The worst of the reaction was probably limited to PR and marketing pundits and observers like me, so I doubt the Burger King brand reputation was truly damaged. But the fiasco is a good lesson for brand marketers. If they want to really win over women, act like International Women's Day is every day.